Miotso-Prampram Estate
Miotso-Prampram Estate is a middle-class self-sustaining residential community in Miotso, near Prampram on the Tema-Aflao Highway (N1) with adequate infrastructure, social amenities and services. The community will have over 700 residential units made up of 1, 2 and 3 bedroom detached, semi-detached & terrace units and apartments.
Osu Apartments, Osu-Accra, Ghana
Luxury apartment building which includes a penthouse, roof garden, Jacuzzi, bar and grill plus 20 parking bays and a gym.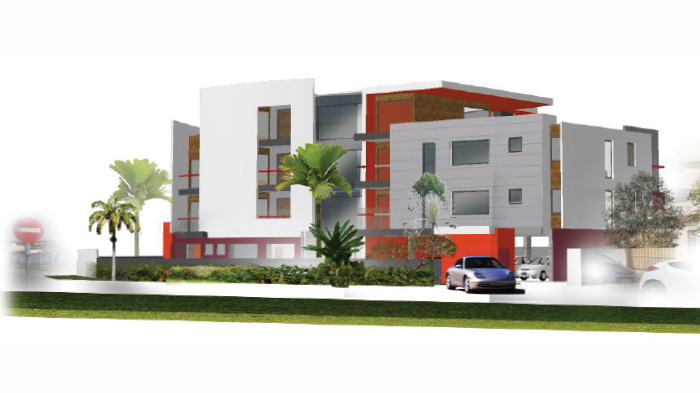 Ridge Office Block, Ridge-Accra, Ghana
An efficient, high-tech commercial development with a minimum of ten floors consisting of let-able office space, and a minimum of three floors for basement parking. It will be a divisible space customizable for the client's specific needs. In addition, there will be shared event facilities with the capacity to handle large conferences, training programs, and other events.
Barnes Ville, Asylum Down-Accra, Ghana
The proposed complex will consist of ten duplex units (2/3 bedrooms) and an average space of 200m2. The complex will have a swimming pool, gym and ample parking space.
Ashesi Students Hostel, Brekusu
Dakobi Hostels as it will be known will consist of 60 rooms to accommodate a maximum of four students per room. The hostel will include study rooms, bar/lounge, kitchenette, cafeteria, hair salon, laundry, internet café and multi-purpose basketball court.
Sea View Apartments, Dadekotopon
An apartment complex located behind the Accra International Trade Fair Centre, comprising of 100 units targeted at young professionals and first time home buyers.
Low to Middle Income Housing, Abokobi
About 30 acres of land has been secured for the construction of low to middle income housing at Abokobi, a suburb of Madina. More details soon.